Checkout where we've been featured!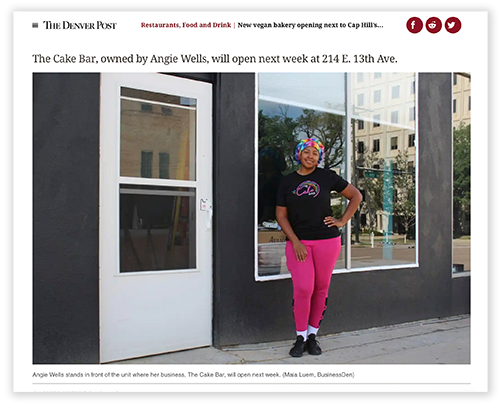 The Denver Post: New Vegan Bakery Opening Next to Cap Hill's O' City
Fox 31 Denver: Vegan Bakery Opens in Capital Hill. Plant-based people with a sweet tooth are in luck.
Veg Out Magazine: Denver's First Black-Owned Vegan Bakery Opens August 12th
5280: 8 New Denver Metro Bakeries to Secure Goodies From Now
The Business Journals: Gluten-free Manufacturer Wins Denver Startup Week Pitch Content
ABC 7 Denver: Black-owned Vegan Cake Bar Sweetens Up Denver
My Black City: Inteview with Angela Wells
Chef Angela Wells is Known for Her Incredible Cakes, but She Also Makes Equally Incredible Vegan Mac & Cheese!
Birdy Creative: Vegan Entrepreneur Angela Wells Has a Love for All Things Cruelty Free
ORDER A CAKE FOR YOUR NEXT EVENT!